Oil Poached Tuna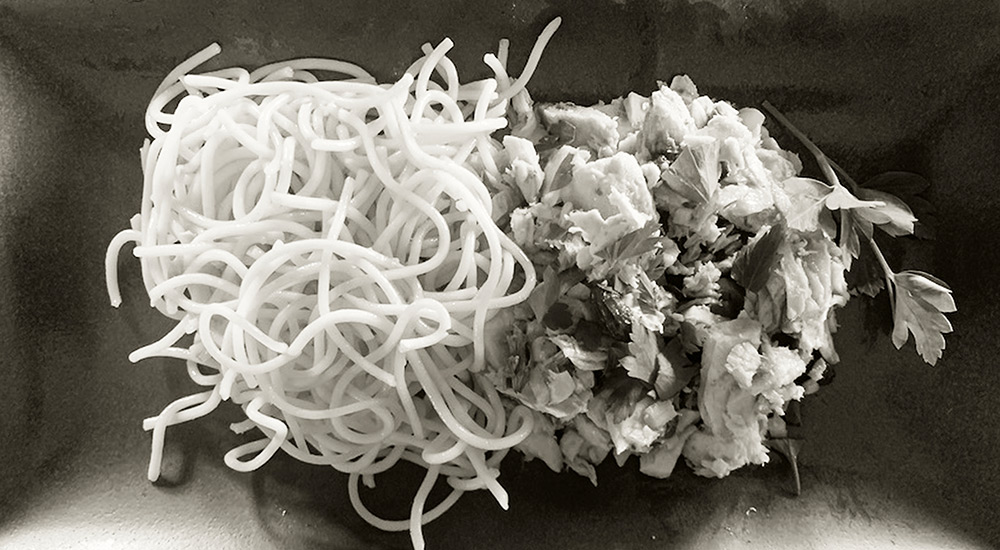 This recipe is a Cherry family staple introduced to us by former Villa Creek restaurant chef Tom Fundaro. Call it our take on the traditional Sardinian dish, Spaghetti with Bottarga. Over the years we have tweaked it to make it our own. Our favorite Villa Creek wine to pair with this dish is the James Berry Vineyard Roussanne. The rich texture and winter fruit aromatics of the Roussanne contrast nicely with the saltiness of the dish.
INGERDIENTS
serves 6
4 cups olive oil
4 cloves garlic, thinly sliced
18 oz Ahi Tuna loin
1 cup roughly chopped almonds
2 lemons
1 tsp red chili flake
3/4 cup golden raisins
6 sprigs of fresh parsley roughly chopped
Sea salt to taste
One package of Spaghetti. Our favorites are the Italian, gluten free and organic Bionaturae and the Paso Robles brand, Etto.
DIRECTIONS
Open a bottle of 2017 Roussanne and pour yourself a glass. Heat olive oil, garlic, and a pinch of salt over medium heat in a cast iron skillet until garlic is lightly toasted. Remove garlic with a slotted spoon and set aside.
Carefully add the almonds to the oil and let simmer until golden brown. Using a slotted spoon, remove the nuts and set aside. Thinly slice the lemon and layer the bottom of the skillet. Gently place the tuna on top of the lemon slices using a spatula or kitchen tongs, taking care not to drop the fish as to not splatter the hot oil.
Reduce the heat and simmer. At the half-way point, flip and cook on the other side. To check if the fish is done, make a slight incision in the middle of the loin, once done the fish should still be just slightly pink in the center. Make sure not to over cook or the fish will get tough and chewy.
When the tuna is nearly done, add back the garlic and almonds as well as the golden raisins and red chili flake. Break apart the tuna with a spatula gently combining it with the almonds garlic and raisins. Add more sea salt and chili flake to taste. Ladle over spaghetti, top with parsley and serve with a second bottle of Roussanne.