Lamb Stew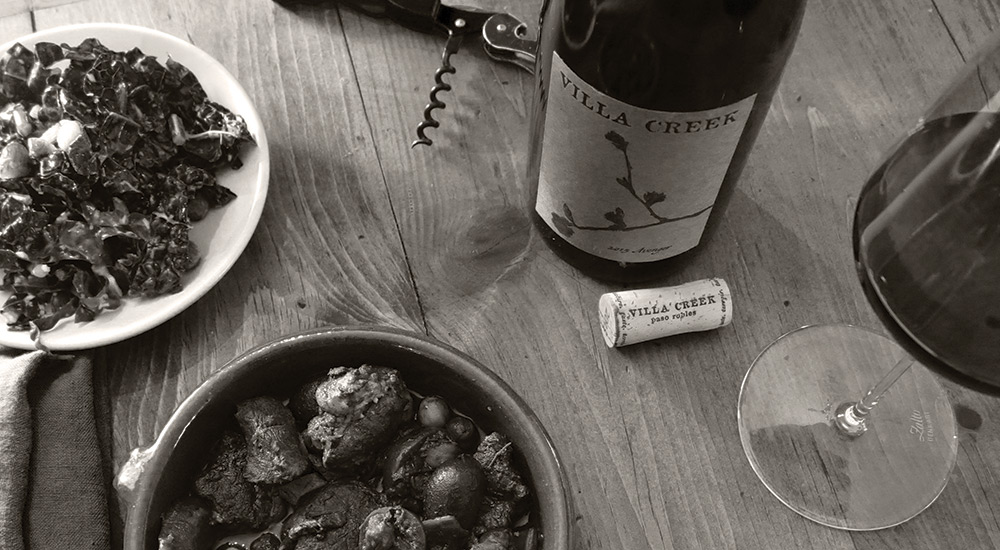 INGREDIENTS
PREP
4 lbs. lamb stew meat, ideally shoulder, in 1 1/2 - 2" cubes
SEASONINGS
4 cloves garlic, minced
1 tbsp of minced fresh rosemary
zest of a meyer lemon, minced
1 tsp sea salt
1/2 tsp coriander, toasted and ground
1/2 tsp cumin, toasted and ground
1/2 tsp spanish paprika
COOKING STOCK
1 tbsp bacon fat or fat from the initial searing
2 carrots, diced
1 small onion, diced
1 stick celery, diced
1 cup red wine
1 cup good stock (lamb, chicken or beef) or another cup of wine
1 8 oz can or two large fresh tomatoes
1 cup garbanzo beans, dried cooked or canned
10 fresh or dried rehydrated mission figs, quartered
DIRECTIONS
We raise sheep on the MAHA Estate (home of Villa Creek Cellars). They eat the grape leaves after harvest and graze on the spring cover crop, fertilizing and micro tilling the vineyard as they go. Our lamb is not gamey tasting, but has just enough *garrigue to complement our wine. This dish was created to utilize what grows around our house and vineyard: lamb, figs, rosemary and meyer lemons.
*garrigue: A fun-to-say wine geeky term that is often used to describe herbaceous qualities in wine and food. A term refering to low-growing vegetation on the limestone hills of the Mediterranean coast.
Combine seasoning ingredients. Toss seasoning with lamb stew meat to coat and refrigerate overnight. If you don't have time to plan ahead, an hour is fine.
When you are ready to prepare the stew, warm oven to 325° and heat a high sided cast iron pot with olive oil until barely smoking. Brown the meat on all sides.
Remove the stew meat from the pan. Deglaze with a little red wine scraping the bits off the bottom of the pan. Add the diced vegetables and sauté over high heat until they begin to brown slightly. Place the stew meat on top of the veggies. Add the remaining liquid.
Wrap pot with plastic wrap then foil. This technique works like a charm to retain the moisture and seal in flavor. Braise in a 325 degree oven for 1 hour. Remove from the oven and carefully remove plastic wrap and foil. Purée the tomatoes with 1/4 cup of garbanzo beans (this serves as the thickener). Add tomato mixture, figs and and whole garbanzo beans to the stew. Cover with foil and continue cooking for about an hour until meat is tender and sauce is slightly reduced.
Enjoy with a glass of Villa Creek High Road, hot buttered egg noodles, and a lemony kale salad with almonds.