Fennel Risotto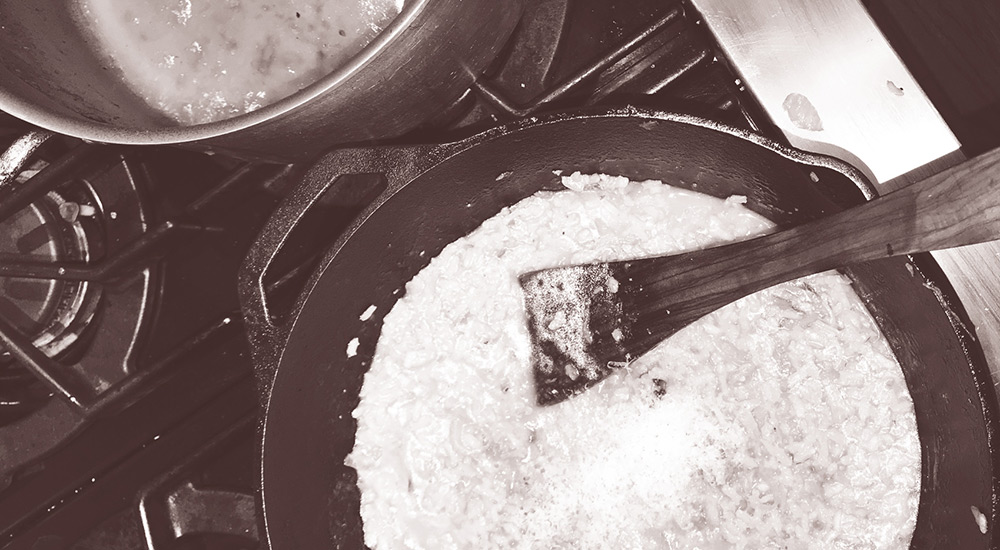 Our Grenache has fruit, savory, acid, tannin and a medium body that enhances most any meal, but it has an uncanny ability to cut through fat. A decadent creamy risotto can be a perfect pairing and risotto, like pasta, allows for endless variations. Fennel, a favorite Grenache complement, is the primary flavor enhancer.
INGREDIENTS
(serves 6)
2 large bulbs fennel, sliced thin
1 medium onion, peeled and sliced thin
1 tablespoon olive oil
3 tablespoons unsalted butter
3/4 teaspoon sea salt (to taste)
2 cloves garlic, minced
2 cups Arborio rice
1 cup good white wine
juice of half a lemon
4 cups broth, heated (I used lamb broth)
FINISHING
more white wine
1 tablespoon butter
1/4 cup creme fraiche
3/4 cup grated Parmesan cheese
handful of fresh Italian parsley, minced
DIRECTIONS
1. Open white wine and pour yourself a glass. Chop the fennel, onion and garlic.
2. In a deep cast iron skillet (Lodge) or saucier (All-Clad) or similar, heat oil and 3 tablespoons butter over medium-low heat. When butter is melted, add sliced onion and fennel and stir until coated. Continue to cook until onion and fennel are slightly carmelized, about 15 minutes.
3. Simmer broth in a separate pot on the stove.
4. Add garlic, Arborio rice, and salt to the onions and fennel. Sauté, stirring frequently until the rice is translucent around the edges, about 3 minutes. Add wine and simmer, stirring frequently, until fully absorbed, 4 to 5 minutes. Add 1 cup broth stirring every 3 to 4 minutes until liquid is absorbed. Stir in another 1/2 cup of hot broth and simmer, stirring constantly until absorbed. Repeat with additional broth until rice is al dente. Stir in lemon juice. Remove risotto from heat.
5. Just before serving, turn heat to low, stir in remaining tablespoon butter, a splash of white wine, Parmesan, creme fraiche and stir to blend. Stirring the risotto with liquid right before serving is key to development of a creamy broth that envelopes the rice. Top with parsley and a few grates of Parmesan.
Serve with a Romaine salad tossed with garlicy anchovie dressing. Grilled sausage is a nice accompaniment.