Cali Braised Chicken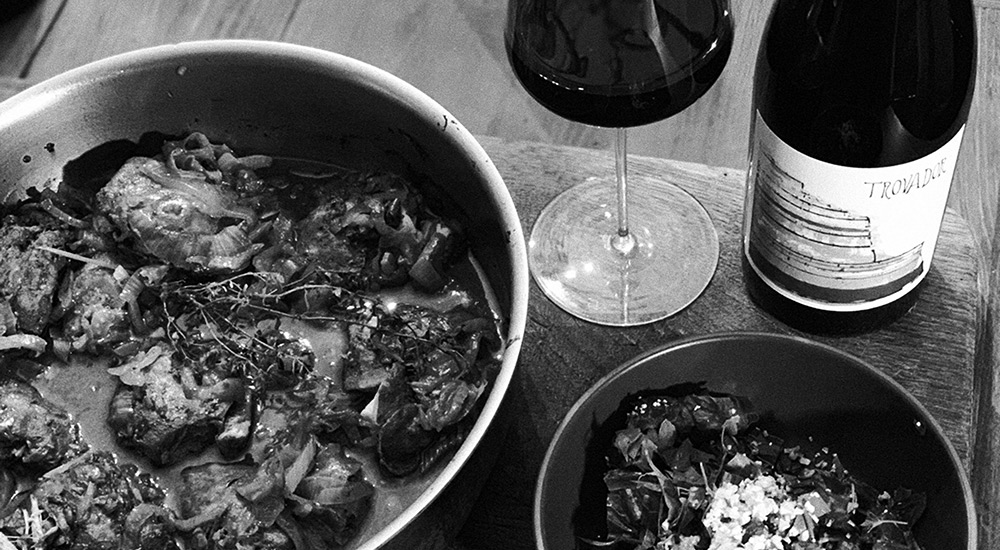 This Spanish inspired braise is a favorite harvest lunch as it can be prepped ahead for long slow cooking and it warms the bones on cool fall afternoons. Of course we love it for dinner too. The Spanish paprika is a key ingredient as it adds an earthy, smoky flavor that pairs well with our wines.
CHICKEN PREP
8-10 organic, free range chicken thighs, bone in, skin on
leaves from 4 fresh thyme sprigs
1 bay leaf
6 cloves garlic minced
1 tbsp Spanish smoked paprika
3 chiles de arbol stems removed and crushed or crushed dried (omit if you
don't like a little spice with your wine)
1 tbsp sea salt
FOR BRAISING
1 sliced onion
1 sliced fennel bulb
2 ribs chopped celery
2 chopped carrots
4 fresh San Marzano tomatoes diced
red wine and/or stock for braising
sherry vinegar or red wine vin
3 tbsp olive oil
DATE RELISH
12 organic medjool dates chopped and pitted
minced rind of one lemon
one half bunch parsley, chopped
juice of one lemon
drizzle of olive oil
SERVE WITH
hot buttered quinoa or couscous
DIRECTIONS
Set oven to 350°F. Rinse the chicken thighs and pat dry. In a large bowl, mix thyme, bay leaf, garlic, smoked paprika, chiles and sea salt. Toss the chicken thighs with the spice mixture and let them marinate while you prepare the vegetables.
In a deep sauté pan, warm 2 tbsp olive oil over medium heat. Add onions, fennel, celery and carrots and sauté until slightly softened, about 6 minutes. Remove the vegetables from the pan and set aside. Turn heat up to high, add more olive oil and brown the chicken thighs on all sides, without crowding. Once sufficiently browned, remove the thighs and deglaze the pan with a little red wine or stock.
Layer the chicken thighs in the deglazed pan. Distribute the tomatoes and sautéed vegetables over the chicken. Mix sherry vinegar with red wine/stock, then pour liquid over the chicken and veggies so they are half way submerged. Cover the pan with plastic wrap, then with tin foil to cover the plastic.
Place in the oven and braise for two hours. While the chicken is braising combine all the ingredients for the date relish. Remove the pan from the oven and very carefully remove the tin foil and plastic wrap. Remove the chicken thighs and reduce the liquid to taste. Add the thighs back in to warm. Crack a bottle of Villa Creek Trovador and enjoy!