Braised Short Ribs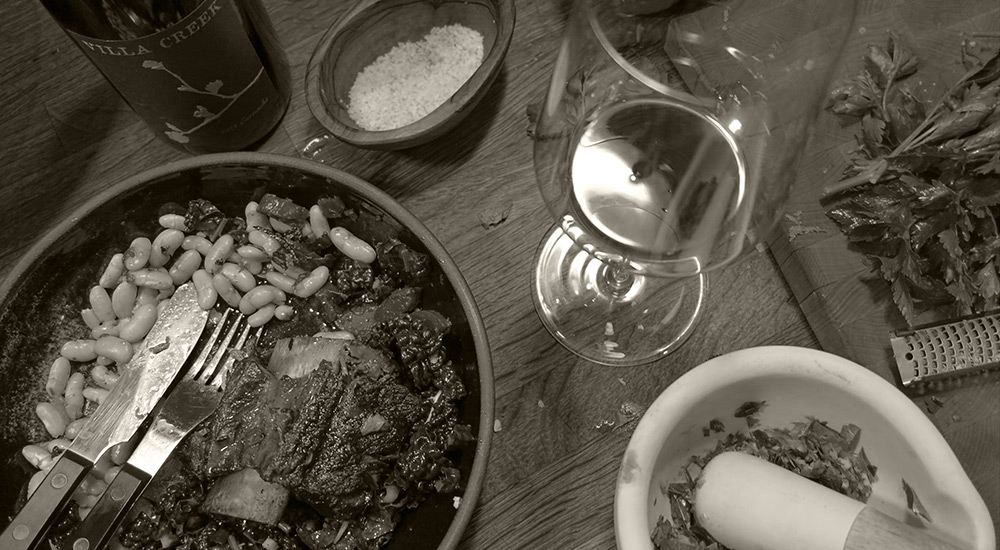 The fatty richness of the short ribs and bright fruit of Grenache are perfect mates. The anise aromas and citrus notes that are so prominent in west Paso Robles Grenache are complimented by fennel and the gremolata topping. Bacon fat is good with everything but nods to the delicate oak in the Garnacha. Sweet vermouth in the braising liquid adds a sweetness and nice aromatics.
INGREDIENTS
PREP
3 lbs. bone-in beef short ribs, cut English style
sea salt and freshly cracked pepper
1 tbsp olive oil
4 sprigs worth of thyme leaves, roughly 2 teaspoons (8 total see below)
6 cloves garlic (10 total see below)
2 tsp fennel seeds, lightly toasted and ground
BRAISING LIQUID
1 tbsp bacon fat (or fat from the initial searing)
1 onion diced
2 carrots diced
1 celery stalk, diced
1 750 ml bottle dry red wine
1/4 cup sweet vermouth
HERB BOUQUET
8 sprigs flat-leaf parsley (12 total see below)
4 sprigs oregano
4 sprigs thyme
4 fennel fronds (in 6-8" lengths)
2 fresh or dried bay leaves
GREMOLATA
grated peel of one lemon
2 tablespoons minced parsley
4 cloves garlic, peeled and minced
DIRECTIONS
Generously salt the short ribs. Mince the 6 garlic cloves and mix with thyme leaves, ground fennel seeds and cracked pepper. Rub all over the short ribs. Cover and refrigerate at least an hour but preferably overnight. Take the short ribs out of the refrigerator an hour before cooking so they can come to room temperature. Warm the oven to 325°.
Add olive oil to a hot high sided cast iron pan or high sided skillet. Brown the meat on all sides. When finished browning, place the meat on a plate. Drain the fat and melt bacon fat in the warm pan. Sauté the onion, celery, carrots and garlic until translucent. Deglaze with a splash of red wine scraping the flavorful bits off the bottom of the pan. Pour in the remaining red wine and vermouth and reduce for a few minutes over low heat. Nestle the short ribs in the braising liquid with the veggies. Add the herb bundle. Bring to a boil then turn off. Cover with plastic wrap then foil. Braise in a 325 oven for about 3 hours until the meat falls off the bone.
Crack a bottle of 2015 Garnacha and pour yourself a glass. Remove the short ribs from the oven. Place on a plate and cover with foil. Remove the veggies from the braising juices, skim the fat off the top and reduce to thicken slightly and to taste. Strain the liquid into a serving pitcher or bowl. Serve with great northern bean ragout and a lemony kale salad. Drizzle with braising juices and top with gremolata.
Enjoy!