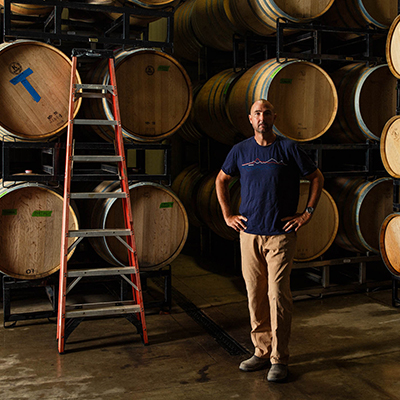 We moved to Paso Robles in 1996 to open a restaurant, partake in the burgeoning wine scene and raise our children in the country. In 2001 we purchased our first grapes to make wine for our restaurant. And so began Villa Creek Cellars, our best expression of west Paso Robles' Rhone grape varieties. In 2017 we closed our restaurant to devote the entirety of our blood, sweat, tears to our winery and Demeter certified biodynamic and CCOF certified organic vineyard in the hills west of Paso Robles. We continue to purchase grapes from our region's most esteemed vineyards and strive to create exciting wines that reflect the land from which they originated. In 2019 we will release our first all estate wines under a new label, MAHA Estate, to a select list of customers.
Sign up for a MAHA Estate wine allocation.
Cris and JoAnn Cherry

The MAHA Estate
Its supreme location, 8 miles due west of Paso Robles, attracted us to this 60 acre gem in 2003. Extreme topography of south and west facing slopes that climb to 1800 feet continue to captivate us with the dynamic views of the coastal mountain range. Our winery was erected in 2003 to house the production of roughly 3000 cases of wine each year. Monterey shale and siliceous shale provide an ideal foundation for the Rhone grape varieties planted in 2012 and 2013. Sustaining the vibrancy and the health of the land by farming our grapes under organic and biodynamic principles will, in turn, make vibrant wines. Our soil is abundant in micro organisms and is the perfect host to our vines, our family and our flock of 30 Dorper sheep that graze the vineyard in the winter and spring. The energy of this site is palpable. Our soon to be launched Maha Estate wines will express the terroir of this exciting location.
Vineyards
We source grapes that are certified Demeter Biodynamic, CCOF organic or sustainably farmed, in unique and challenging sites. The west hills of Paso Robles are home to 90% of the grapes we purchase. Per acre leases ensure that our grapes are harvested from the same special blocks each vintage. These contracts also allow us to influence certain farming practices such as how many clusters will hang on each vine and when to pick.
Luna Matta
ACRES LEASED/ 7
LOCATION/ Adelaida District
SOILS/ Salicious Shale, Calcareous
ELEVATION/ 1750 ft
COASTAL PROXIMITY/ 15 miles
FARMING/Certified Organic
GRAPES/ Syrah, Grenache, Mourvèdre, Aglianico, Fiano
WINES/Avenger, Garnacha, Aglianico, Fiano, Damas Noir
GROWERS/ John Ahner and Jody Jacobs
James Berry
ACRES LEASED/ 5
LOCATION/ Willow Creek District
SOILS/ Monterey Shale, Calcareous
ELEVATION/1250 ft
COASTAL PROXIMITY/11 miles
FARMING/
Sustainable
GRAPES SOURCED/ Grenache, Mourvèdre, Syrah, Roussanne
WINES/ High Road, Avenger, Willow Creek Cuvée, Roussanne
GROWERS/The Smith Family
G2
ACRES LEASED/ 3
LOCATION/ Willow Creek District
SOILS/ Monterey Shale, Calcareous
ELEVATION/ 1150 ft
COASTAL PROXIMITY/ 12 miles
GRAPES SOURCED/ Grenache Blanc, Syrah
FARMING/ Sustainable
WINES/ White, TBD
GROWERS/ Bill Gibbs