Farmshop, Santa Monica Dinner
August 24, 2019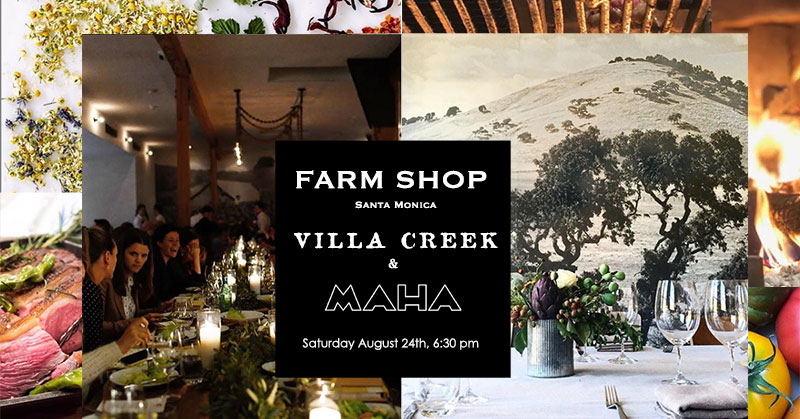 Saturday, August 24th we will be debuting our inaugural MAHA Estate line-up alongside our Villa Creek wines at west LA's premiere farm to table restaurant, Farmshop, Santa Monica. Culinary Director Brian Reimer, who spent 10 plus years working internationally with Daniel Boulud, posseses that rare sixth sense that allows him to create impeccable wine and food pairings. We would not want to debut our MAHA wines with any other chef!
We sincerely hope you will join us.
Cris and JoAnn Cherry
UPON ARRIVAL
Assortment of Cheese & Charcuterie
Villa Creek Grenache Blanc, 2018

TO BEGIN
Dungeness Crab Wrapped with Avocado
Yuzu, Peach & Lemon Balm
MAHA "Before Anyone Else" Clairette, 2017
FROM THE OCEAN
Wild Salmon Baked in Sumac
Figs, Fennel & Chickpeas
MAHA "Understory" 80% Grenache, 10% Graciano, 8% Carignan, 2016
Villa Creek Garnacha, 2017
FROM THE FARM
Snake River Farms Eye of Ribeye
Bloomsdale Spinach, Wild Mushrooms, Cherries, Marrow Toast
MAHA "Backlit" 70% Petite Sirah, 12% Grenache, 10% Graciano, 8% Carignan, 2016
Villa Creek "Avenger" 70% Syrah, 20% Mourvédre, 10% Grenache, 2016


FOR DESSERT
Galette of Pluots
Black Walnut Gelato
Villa Creek "Neo Noir" 60% Grenache, 40% Syrah, 2015
Saturday August 24th
6:30 pm
$95 per person
Click here to reserve using the Farmshop online reservation system.
Select RESERVATION, SANTA MONICA then navigate to August 24th and select the 6:30 time slot.
or call Farmshop Santa Monica at 310-566-2400.