Instagram
---
PHD Post Harvest Depression
November 11, 2017
JoAnn mentioned to me the other day that I was out of sorts and that I might be suffering from PHD (Post Harvest Depression). Harvest is such an exciting time of year! From the early morning vineyard walks to check fruit ripeness, to the actual harvest days, all the while working with a team of great individuals who work their asses off. A pace like this requires a carrot here and there. A few years back we started taking a "civilized" lunch. I first heard of the concept from Adam Tolmach at Ojai who first learned the concept in his early years in France. Basically, it is taking the time to sit down and enjoy a nice winery cooked lunch, open some wines and chat about what excites us in this world of wine. It really helps to keep moral up when you are working 12-14 hour days. I had never thought about it as "depression" but something more like when you open the last present at Christmas. The harvest fun is over but there is always next year to look forward to.
We are now transitioning back into the vineyard spreading organic compost, laying down cover crop and rotating the sheep through the vineyard. It is time to think about how we can continue to raise the bar in the vineyard and cellar to present world class wines to you. ~Cris~
---
What is MAHA?
May 25, 2017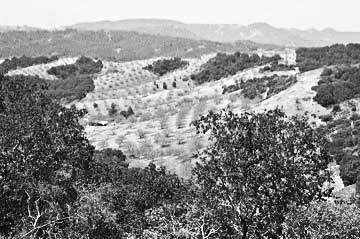 Cruising on mountain bikes in the late 90's, Cris and his buddy Justin used to ogle at the old walnut orchard and little red farmhouse just east of Willow Creek Road on Peachy Canyon. The south facing slopes dotted with limestone rocks would make a fabulous vineyard planting, they would muse. A piece of old farm equipment had the name MAHA stenciled on it in red paint and marked the entrance to this intriguing site that, years later, would become the home of Villa Creek Cellars and the MAHA Estate Vineyard. MAHA was the old family name of the folks who lived on the property and planted the walnut orchard in the 1940's. We learned that the land was for sale in 2002, contacted the owner, sealed the deal and moved out to the property. We put down a modular home to live in, built a small winery and got to work on developing the land for planting, which would be a 10 year process.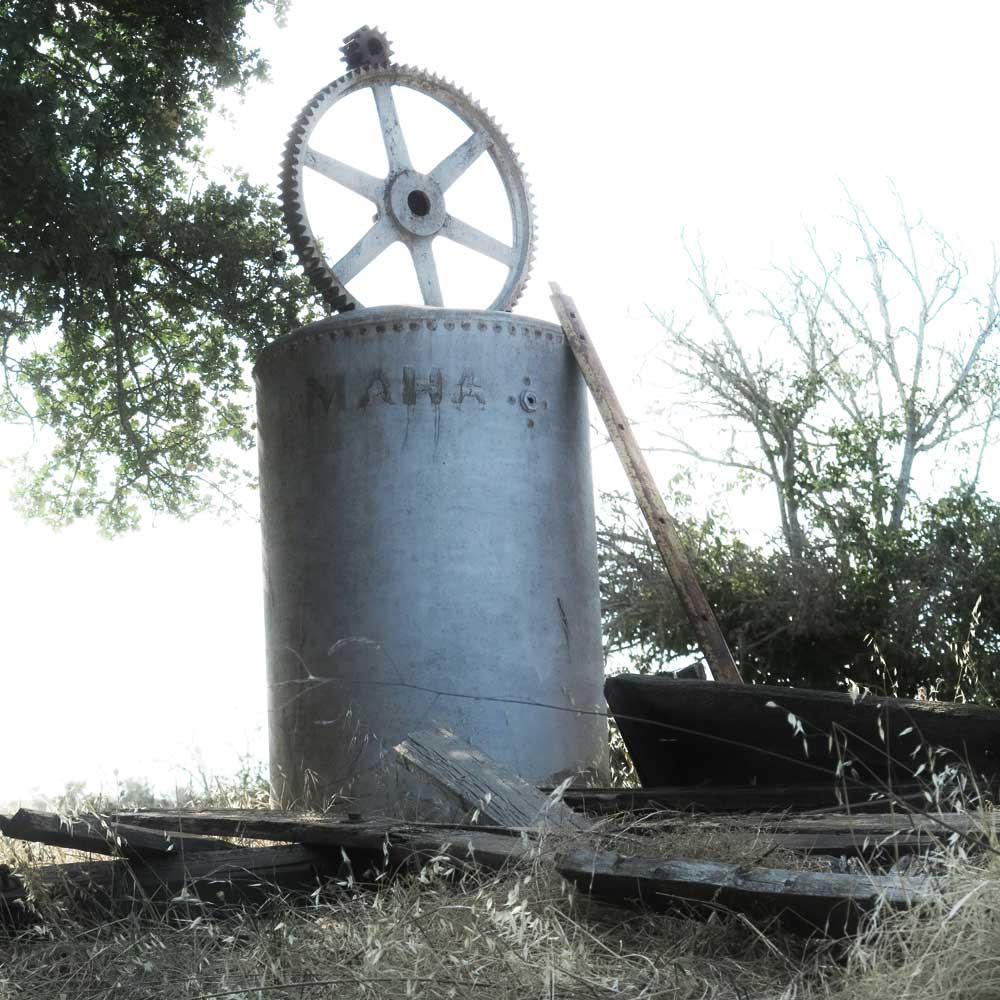 We decided to keep the name. It is most commonly described to mean great or abundant. As a Scottish sur name, MAHA means the rock. It also translates to reflect a higher place, a powerful connection with the supernatural and the moon. Urban Dictionary says a MAHA has a kind heart, a smile that lights up the world, an uncanny love of music and is brave and bold.
To us MAHA is our home and the home of our certified organic and certified biodynamic MAHA Estate Vineyard. It is a living, breathing ecosystem full of life, love and beauty.
Follow us on instagram @MAHAestatewine for vineyard pics and updates as well as news of our inaugural release off the property.
---
Syrah. Nothing Worthwhile is Easy
April 13, 2017
I love Syrah and so did Thomas Jefferson (Happy Birthday Tom!). But why hasn't Syrah captured more of a share of the red wine market?
Like anything, economics of production dictate availability and therefore dictate popularity. A wine grape like Cabernet Sauvignon grows easily in rich valley floor soils and can yield large amounts of reasonable quality grapes. In fact you can plant it pretty much anywhere and the resulting wine will likely be distinguishable as Cabernet Sauvignon. It's easy to homogenize and produce en masse.
Syrah, on the other hand is more sensitive to it's surroundings. Plant it in the west hills of Paso Robles and you get a rich, fruit forward wine that also has structure and acid. The Edna Valley with its ocean fog, volcanic soils and long growing season yields Syrah with dark fruits, licorice and gentle tannins. Sonoma Coast, Cayucos and Ballard Canyon Syrahs each have unique profiles. Head to the great Syrah growing regions in France, Hermitage, Cornas and Cote Rotie, and again, each location is distinct. While Syrah does not lend itself to production farming it is prized for just the opposite; small lots of unique expressive wines that reflect their place of origin.
2015 Villa Creek Syrah from Slide Hill Vineyard in Edna Valley is available to wine club and current allocation list members on line until April 17th. Log-in to view and purchase your allocation. If you did not receive an allocation, your membership has lapsed due to inactivity. Click here to get on the allocation waitlist.
The MAHA Estate Vineyard is currently planted in Grenache, Mourvèdre, Carignan, Petite Sirah and Clairette. Our young Syrah nursery (pictured below) was started with cuttings from a neighboring vineyard. We hope to plant these own rooted Syrah vines at the top of the hill next fall. ~JoAnn Cherry